PPTP Setup for Windows 7, 8, 10, 11
This tutorial will show you how to manually setup FastestVPN using PPTP VPN Protocol on Windows 7, 8, 10, 11.
Setup through FastestVPN's RAS Phonebook VPN Dialer
FastestVPN's Windows VPN RAS Phonebook is Compatible with Microsoft Windows 7, 8, and 10
Step #1: Download FastestVPN RAS Phonebook.
Step #2: Extract the downloaded FastestVPN RAS Phonebook file somewhere such as desktop and double click on its icon to open it..


Step #3: Click on the drop-down arrow.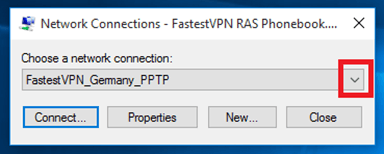 Step #4: Choose any of your desired "PPTP" servers.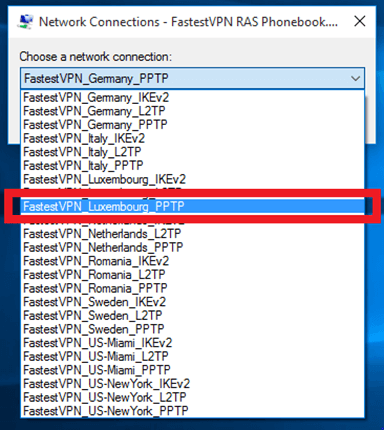 Step #5: Click on "Connect".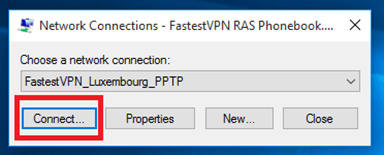 Step #6: Enter the following information;
Enter Your "FastestVPN Username"
Enter your "FastestVPN Password"
Check "Save this username and password for the following users"
Click "Connect"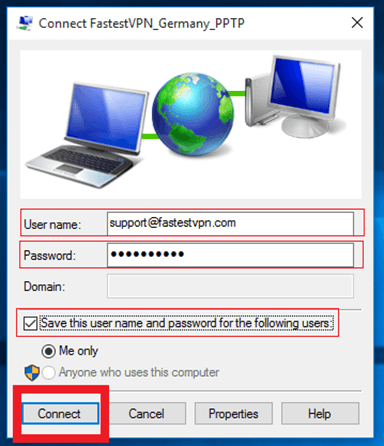 Once connected successfully, RAS Phonebook Window and its taskbar icon will disappear. You can verify VPN connectivity at https://fastestvpn.com/what-is-my-ip OR iplocation.net
How to Disconnect
Step #1: Click on FastestVPN RAS Phonebook icon.

Step #2: Now click on the "Hang Up" button.

Enjoy Complete Online Freedom with FastestVPN Speed
________________________________________________________________________________________
If you want to setup FastestVPN's PPTP manually on your Windows using built-in VPN settings, setup tutorials are given below.

Windows 10
Windows 8
Windows 7