OpenVPN for Mac OS X via Tunnelblick
This tutorial will show you how to setup FastestVPN OpenVPN Protocol using the Tunnelblick VPN Client on macOS X
MacOS Compatibility:
Mac OS 10.7.5 and later versions

Step #1: Download FastestVPN TCP and UDP Config Files for Tunnelblick from here.
Step #2: Download Tunnelblick for Mac from here
Step #3: Double click on the downloaded Tunnelblick App to run the installation
Step #4: The following screen will appear. Double click on "Tunnelblick".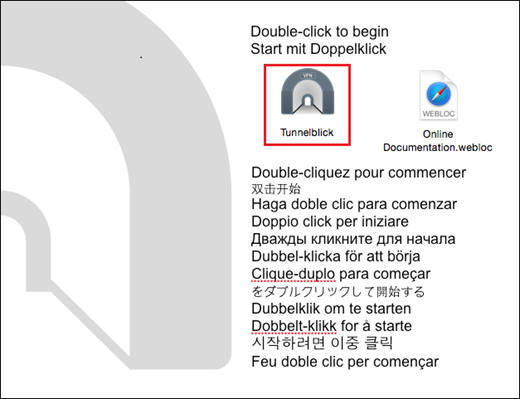 Step #5: Click on "Open"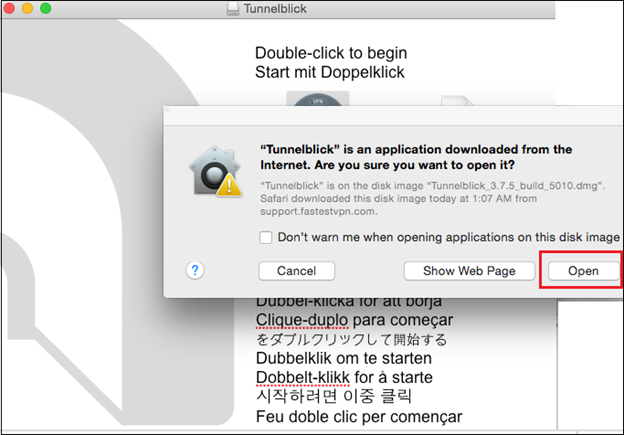 It will ask for your Mac Password, enter that and press "OK"

Step #6: Click on "I have configuration files"


Step #7: Click on "Ok"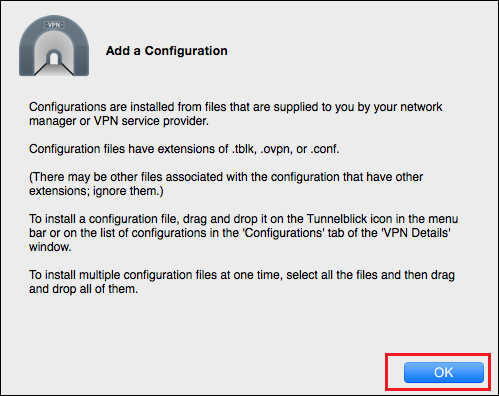 Step #8: Open your "Applications" folder, locate "Tunnelblick" and double click to run it.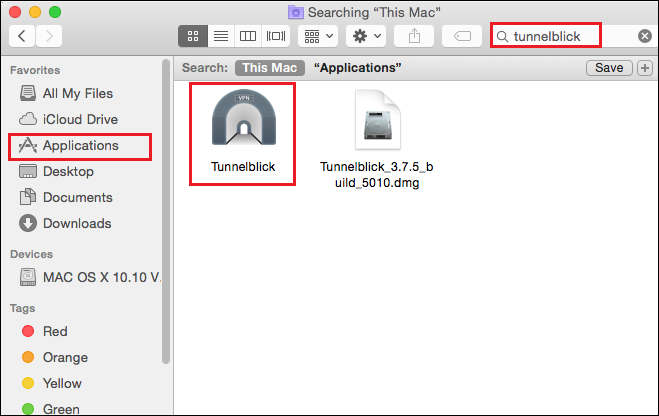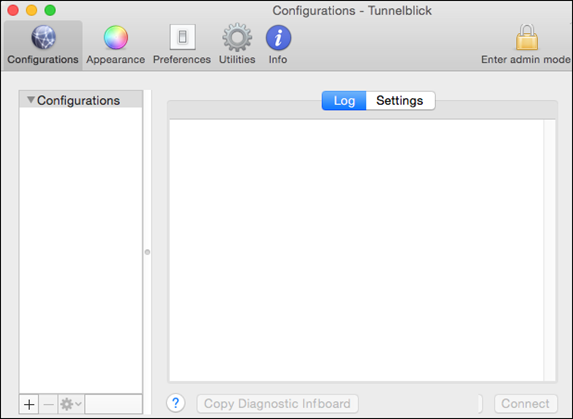 Step #9: Now go to your system's "Downloads" folder and locate and extract Fastestvpn_ovpn which you've already downloaded in step 1.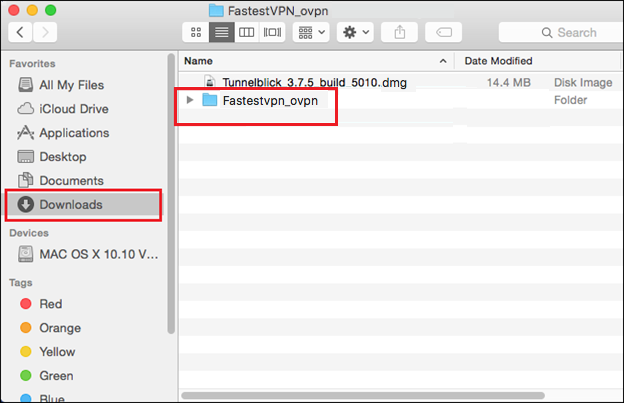 Step #10: You will see TCP and UDP folders inside. Open any of the folders whichever protocol you want to connect to. (UDP is faster than TCP)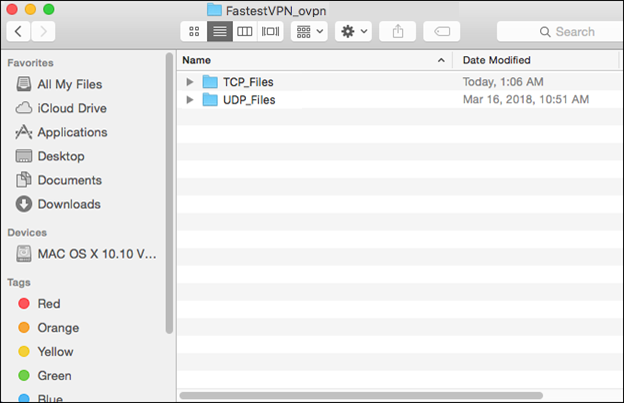 Step #11: From the folder you opened, drag and drop one or more server location files in Tunnelblick "Configurations" section.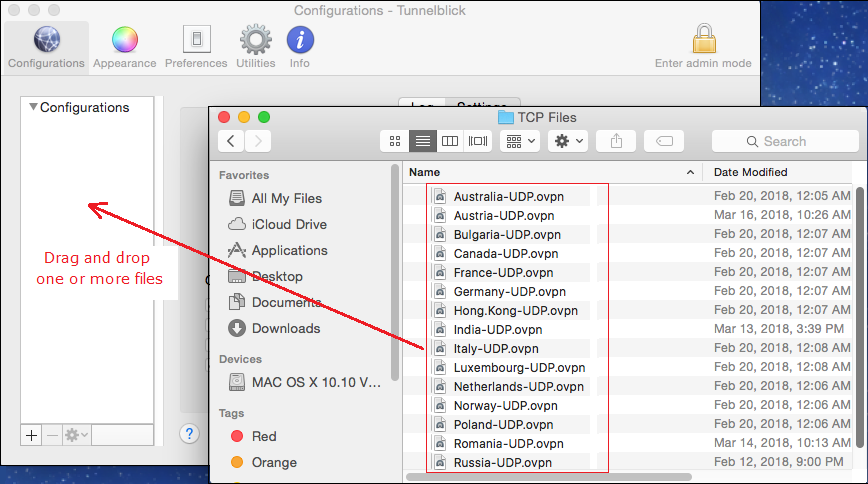 Step #12: Check mark "Apply to all" and click on "Only me".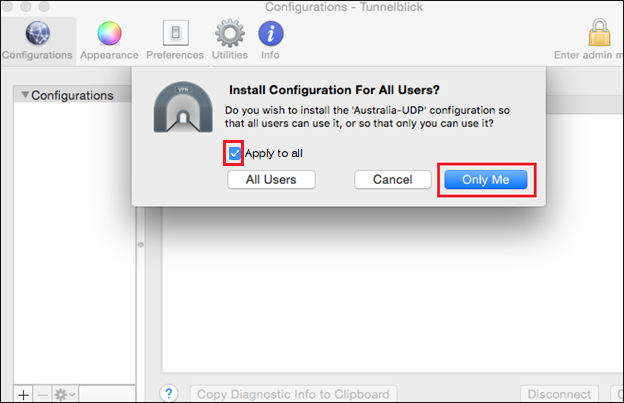 It will ask for your Mac password. Enter that and press "OK".
Step #13: Now in the Tunnelblick screen, click your desired server location on the left side, and click on "Settings".
If it shows any warning message, just press "OK".
Uncheck the 2nd check box at the bottom, and check mark the two boxes below as shown in the screenshot
Click on "Connect"

Note: You are suggested to set these settings for every server location which you want to connect to later
Step #14: Enter your FastestVPN username and password, and check "Save in Keychain" if you want the credentials to be saved for this specific server. Click on "OK".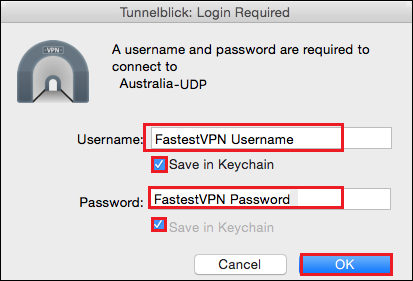 Step #15: FastestVPN will be Connected shortly to your desired server.

When you want to disconnect, click on the Tunnelblick icon on Menu Bar, then go to the connected server and click on "Disconnect".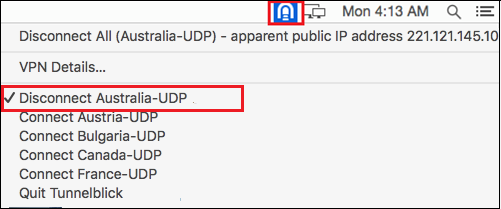 Later, you can use same Tunnelblick Icon in Menu Bar to connect and disconnect to FastestVPN.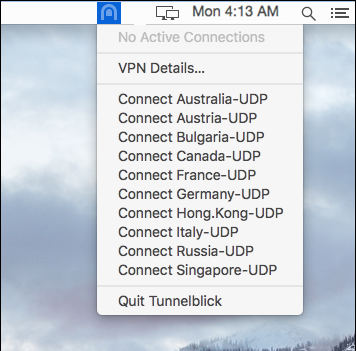 If you want to delete any server(s) from Tunnelblick list, open "VPN Details". Select the server(s) you want to delete and click on "-" sign.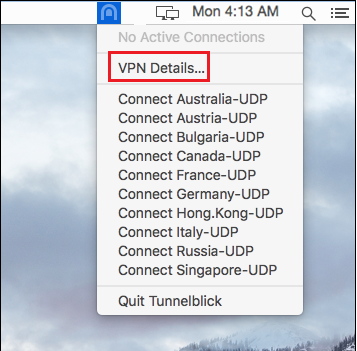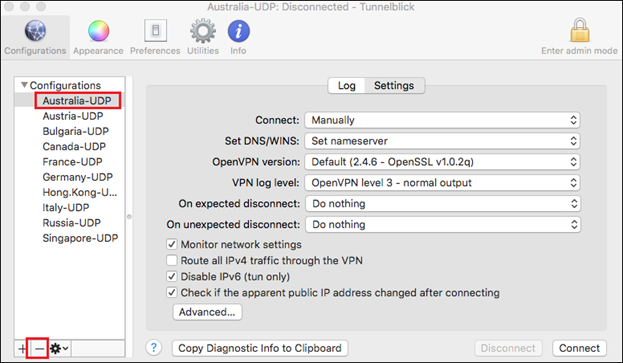 Enjoy Complete Online Freedom with FastestVPN Speed