Setup FastestVPN with PPTP Protocol on DD-WRT Router

This tutorial explains how to connect your DD-WRT Router to FastestVPN using PPTP Protocol.
Go to web browser and access your router's Web Configuration Panel by entering its IP address in the search bar. Usually the default IP to access the router is 192.168.1.1 or 192.168.0.1
It will ask for your router's Username and Password. By default the router's username is root and password is admin. Enter this information and click on "Login". The login info can also be found in router's 'User Manual'

Here is how to connect a DD-WRT router to FastestVPN using PPTP protocol:

Step #1: Go to "Setup" at top right side and click on "Basic Setup".
Step #2: Select "PPTP" in "Connection Type" drop down menu.
Step #3: In the "Gateway (PPTP Server)" field, enter your desired FastestVPN PPTP server location address. In this case Finland server address fi.jumptoserver.com is entered. Please find complete list of our PPTP server addresses here.
Step #4: Enter your FastestVPN "Username" and "Password"
Step #5: Select "Yes" in "Use DHCP" option.
Step #6: In "Optional Settings" section, select "MTU" as "Manual" and put its value "1460".
---
Step #7: Now go to "Network Address Server Settings (DHCP)" section and select "DHCP Type" as "DHCP Server" and select "Enable" below.
Step #8: In Static DNS 1 and 2, enter "8.8.8.8" and "208.67.220.220" respectively.
Step #9: Uncheck "Use DNSMasq for DHCP" and "Use DNSMasq for DNS"
Step #10: Click on "Apply Settings" and "Save".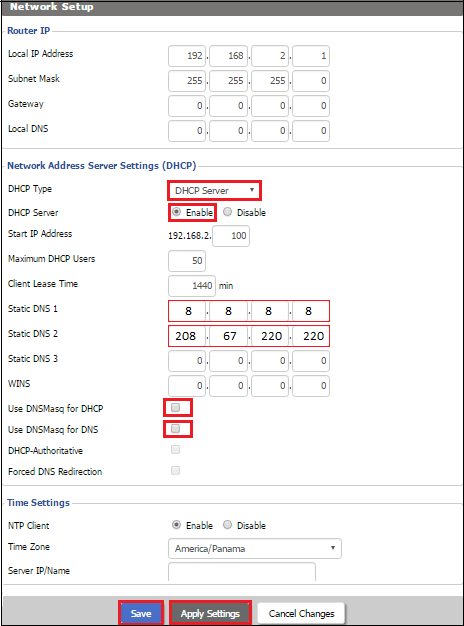 ---
Step #11: To check your VPN connection status, go to "Status" tab, click on "WAN" and you should see "Connected" there.
You are done!!
When you want to disconnect to VPN, go to Setup > Basic Setup and change back the "Connection Type" to its previous state. After that, click on "Save" and then on "Apply Settings"

Enjoy Complete Online Freedom with FastestVPN Speed