Setup FastestVPN with PPTP Protocol on Tenda Router

This tutorial explains how to connect your Tenda Router to FastestVPN using PPTP Protocol.
Login to your router's web page and follow the steps given below
Here is how to connect a Tenda router to FastestVPN using PPTP protocol.
---
Step #1: Go to "Advanced" and then click on "Internet Connection Setup".
[Depending on your router model, you may need to go to Advance Settings > Wan Settings in order to setup VPN]
---
Enter following information:
Internet Connection Type: PPTP
PPTP Server Address: Your desired PPTP server address. As in this case US-Miami usmia.jumptoserver.com is entered. You can find all FastestVPN PPTP server addresses here
Enter your FastestVPN "Username" and "Password".
MTU: 1452
Address Mode: Dynamic
Click on "OK"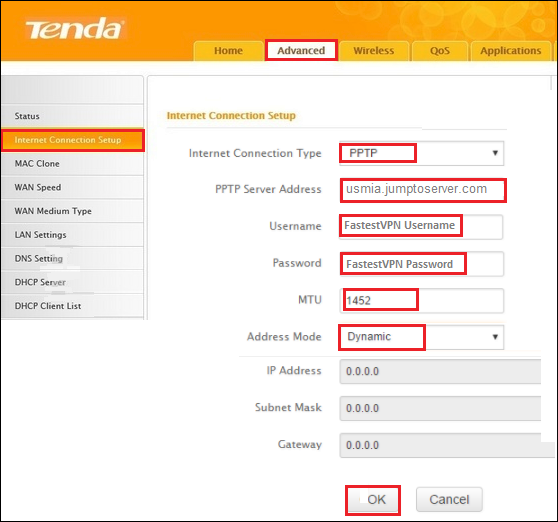 ---
Step #2: In the Advanced tab, go to "DNS Settings" and set Primary DNS Address as "8.8.8.8" and Secondary DNS Address as "8.8.4.4"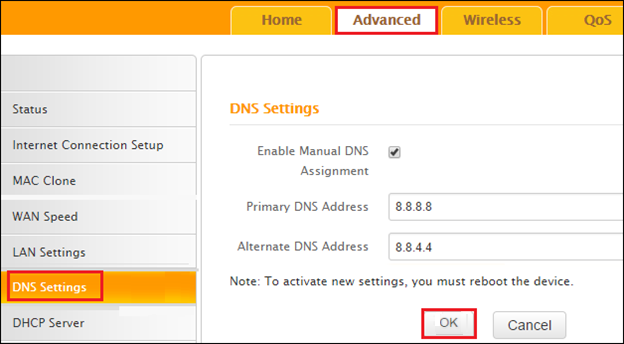 ---
You are done!!
[Note: If VPN doesn't connect then re-enter the PPTP server address in form of IP. You can convert a server address in IP address from this link.]
Example: The IP address of us-mi-pptp-01.jumptoserver.com will be 162.255.138.227
---
Enjoy Complete Online Freedom with FastestVPN Speed