Setup FastestVPN with OpenVPN Protocol on DD-WRT Router (Older Builds)
Here is how to connect a DD-WRT router with Older Builds to FastestVPN using OpenVPN (TCP/ UDP) protocol.
Step #1: Login to your router's web configuration panel.
Step #2: Go to Administration >> Commands.
Now copy/paste the following into the commands area. Make sure to enter your FastestVPN Username and Password where mentioned. Then click Save Startup.
echo YourFastestVPNUsername >> /tmp/password.txt
echo YourFastestVPNPassword >> /tmp/password.txt
/usr/bin/killall openvpn
/usr/sbin/openvpn –config /tmp/openvpncl/openvpn.conf –comp-lzo yes –route-up /tmp/openvpncl/route-up.sh –down-pre
/tmp/openvpncl/route-down.sh –daemon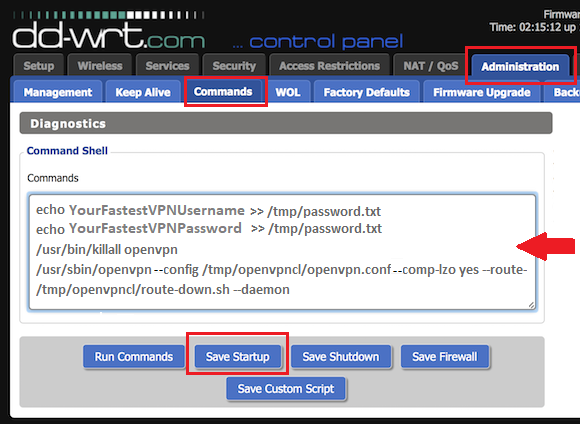 Step #3: Click on Services >> VPN.

Step #4: Follow this:
Set OpenVPN on "Enable"
Server/ IP Name: Enter your desired FastestVPN OpenVPN server location address. In this case Singapore- UDP server address sg.jumptoserver.com is entered. Please find complete list of our OpenVPN server addresses here
Port: 4443
Tunnel device: : TUN
Protocol : UDP (or select TCP if you've entered a TCP server address above)
Encryption Cipher: AES-256 CBC
Hash Algorithm: SHA256
Advanced Optionsr: Enable
TLS Cipher: : None
LZO Compression: Adaptive
NAT: Enable
MTU: 1500
Tunnel UDP-MSS-Fix: Enable
Leave other options as default
Step #5: Scroll down and in Additional Config box, enter following lines:
auth-user-pass /tmp/password.txt
persist-key
persist-tun
Step #6: Scroll down to TLS Auth Key box.
Download a text file from here. Open it and copy the text between <tls-auth> </tls-auth> tags. Paste that text into "TLS Auth Key" field.
Step #7: Scroll down to CA Cert field. Open the same text file which you downloaded in above step. Now copy the text between <ca> </ca> tags and paste into "CA Cert" field.
Step #8: Click on Save and then on Apply Settings. Wait for 1-2 minutes. Reboot your router.
After your router reboots, you will be taken back to the DDWRT OpenVPN status screen. Wait for 1-2 minutes and it should show the status as "Connected: Success".
VPN is connected on your DD-WRT router with older build. Enjoy Complete Online Freedom with FastestVPN Speed