Setup FastestVPN using OpenVPN Protocol On OpenWRT Router
This tutorial will show you how to Install and connect FastesVPN on OpenWRT router using OpenVPN protocol
Update and Install OpenVPN
Run the command below to ensure that your OpenVPN package is upto date:
opkg update
Install OpenVPN package:
opkg install openvpn-openssl luci-app-openvpn
Now confirm that OpenVPN has been installed and also check its version with the same command. Make sure that OpenVPN version is 2.3.4 or higher.
openvpn --version
Go to /etc/openvpn/

Create a file named tls-auth.key In that file, copy-paste the following text and save.

-----BEGIN OpenVPN Static key V1-----
697fe793b32cb5091d30f2326d5d124a
9412e93d0a44ef7361395d76528fcbfc
82c3859dccea70a93cfa8fae409709bf
f75f844cf5ff0c237f426d0c20969233
db0e706edb6bdf195ec3dc11b3f76bc8
07a77e74662d9a800c8cd1144ebb67b7
f0d3f1281d1baf522bfe03b7c3f963b1
364fc0769400e413b61ca7b43ab19fac
9e0f77e41efd4bda7fd77b1de2d7d785
5cbbe3e620cecceac72c21a825b243e6
51f44d90e290e09c3ad650de8fca99c8
58bc7caad584bc69b11e5c9fd9381c69
c505ec487a65912c672d83ed0113b5a7
4ddfbd3ab33b3683cec593557520a72c
4d6cce46111f56f3396cc3ce7183edce
553c68ea0796cf6c4375fad00aaa2a42
-----END OpenVPN Static key V1-----

Then create a file named user.txt. In that file, enter your FastestVPN Username on the first line and your FastestVPN Password on the second line. Then save it.
Username
Password
Take a note of both these files. You'll need them later.
/etc/openvpn/tls-auth.key
/etc/openvpn/user.txt
---
Now Download FastestVPN ca file and save it to use later. Download CA
Configure OpenVPN
Connect to LUCI (your router's interface) on a browser. By default, the router should have the IP address 192.168.1.1
Go to Services -> OpenVPN
Type the name of OpenVPN instance (for example Fastestvpn).

Select Simple client configuration for a routed point-to-point VPN. After that then click Add.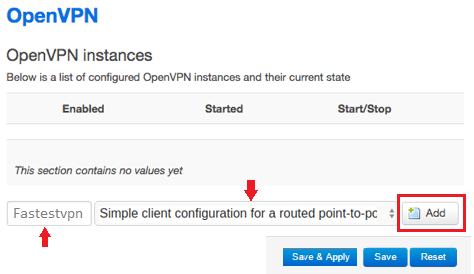 Now click Switch to advanced configuration.


You'll find the sub-categories of menu items: Service, Networking, VPN, Cryptography. Make sure to Save at the end of each category after making any changes.
Configuration Category: Service
Do not change anything here.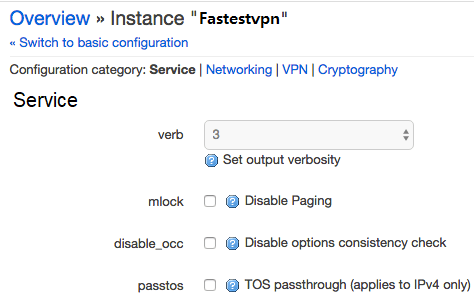 Configuration Category: Networking
Port: 4443
Put a check mark on nobind, persist_tun and persist_key. No check marks on other options are required.

Note: If you don't see the mentioned field then scroll down and select it from Additional Field dropdown and click Add

Click Save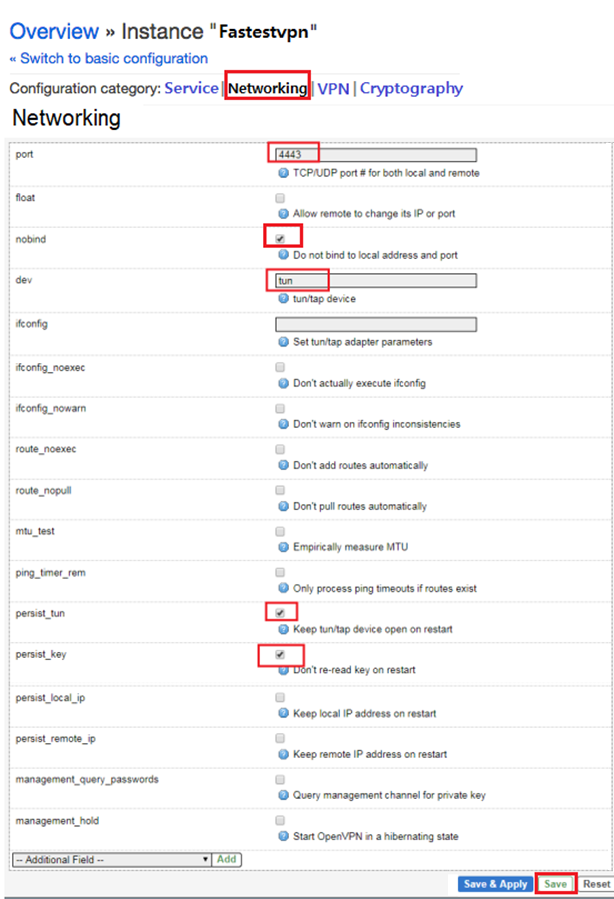 Configuration Category: VPN
Client: Checked
auth_user_pass: /etc/openvpn/user.txt
Remote: Enter a FastestVPN server location address. Here you can get the TCP and UDP server addresses.
Proto: UDP (if you've entered a UDP server address above)
resolv_retry: infinite

Note: If you don't see the mentioned field then scroll down and select it from Additional Field dropdown and click Add

Click Save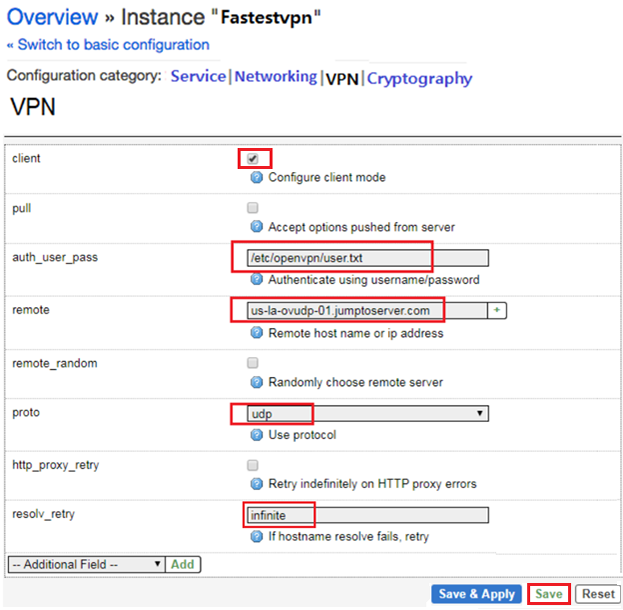 Configuration Category: Cryptography

auth: SHA256

cipher: AES-256-CBC


mute_replay_warnings: Put a check mark
ca: Click "Choose file" and upload the ca file you downloaded earlier.
tls_auth: /etc/openvpn/tls-auth.key
remote_cert_tls: server
key_direction: 1
Note: If you don't find the above field then scroll down and select it from Additional Field drop down and click "Add"

Click "Save and Apply"

Configure VPN Network Interface


Click Network -> Interfaces. Select Add new interface


Enter the details as shown below.

Name of the new interface: Fastestvpn
Protocol of the new interface: Unmanaged
Cover the following interface: Custom Interface – tun0

Click Submit


Set Firewall Rules

In the interfaces, click on "FastestVPN" and select its "Advanced Settings"
Check mark "Bring up on boot" and uncheck "Use builtin IPv6 management"


Click "Firewall Settings". Type the zone name – "Fastestvpn_fw" In "unspecified -or- create:" field.

Click Save and Apply


---

Now go to Network -> Firewall. Click Edit at the right side of "Fastestvpn-fw"

In General Settings , select the following:

Name: Fastestvpn
Input: reject
Output: accept
Forward: reject
Masquerading: Checked
MSS clamping: Checked
Covered networks: Select Fastestvpn

In the Inter-Zone Forwarding section, check mark "Allow forward from source zones: lan
WiFi checked (if you have a wifi interface configured)
Click

---

Connect VPN on OpenWRT

Fastestvpn has now been configured in your OpenWRT router.

Go to Services -> OpenVPN, check the box for Enabled next to Fastestvpn. After that, click Start button to initiate your VPN connection.

The connection should be completed in a few seconds. Once "Connected" you can confirm it by going to fastestvpn.com/whatismyip

Or you can also go to Network -> Interface and the VPN Interface which you created earlier. It should show a VPN IP.

Enjoy Complete Online Freedom with FastestVPN Speed